Coming up on the next programme...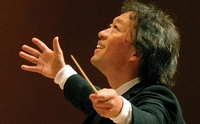 Aug 2. This Saturday, fifty-something brass-player Noel Langley - a founder of the London Jazz Orchestra and who issued his debut album five weeks ago - performs a work by living composer Graham Fitkin; we'll hear more from pianist/producer Thomas Bartlett (see BLUE TUNES, below), this time wearing his Doveman persona; Coltrane, Hartman, Marsalis and Henderson pay tribute to Billy Strayhorn's beautiful music; Joni Mitchell sings about "Woodstock", an event she missed on the advice of her agent; and we hear Myung Whun Chung, from his very first recording for the ECM label, the modestly-titled "Piano".
Eamonn's in the BLUE chair from 10pm...