Coming up on Saturday's programme...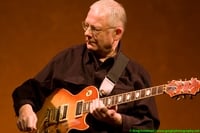 Nov 1. Into a new month, and Eamonn presents more late-night sounds that can simultaneously relax and stimulate. These include symphonic Grieg; the latest joint effort by Robert Fripp (pictured) and Theo Travis; the Hilliard Ensemble, from the last release before retirement later this year, a CD devoted to English carols and motets from the 15th century; the ECM debut by Norwegian trio Lumen Drones; vocalist Tim Bowness and multi-instrumentalist Peter Chilvers from the recently-available "california, norfolk"; 2 more Jacques Loussier Trio readings of the classical repertoire (see BLUE TUNES, below); and Wagner's music, played by Wilhem Latchoumia.
A 10:15pm start-time anticipated, immediately following the live opera broadcast from Wexford...