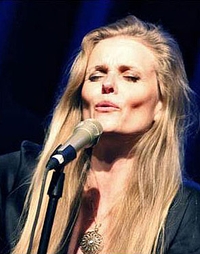 Coming up on the next programme...
Apr 18. Eamonn returns to host his own slot (for a change) this Friday night, and he shall be relaying the following, and a bit more besides: a C Minor piano sonata by Beethoven; June Tabor's reading of a song by Elvis Costello; jazz vocalist Tierney Sutton (pictured); La Colombina singing music for Good Friday by Tomás Luis de Victoria; Jimmy Webb's "The Moon Is A Harsh Mistress"; Norwegian guitarist Eivind Aarset; Hesperion XXI from "Orient-Occident II"; and another selection from Jackson C. Frank's "Fixin' To Die" (see BLUE TUNES, below).

Note: a 10:45pm start tonight (approx)...