Coming up on the next programme...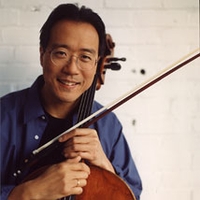 Nov 29. This Saturday night, John Martyn reminds us to "Bless The Weather"; Susana sings a Joy Division song; Alexi Lubimov interprets Arvo Part's "Lamentate"; Clapton covers Robert Johnson material; Yo-Yo Ma (pictured) performs a milonga by Piazzolla; we also hear Teddy Wilson recorded with a couple of famous trumpet-players, namely Harry James and Roy Eldridge (see BLUE TUNES, below); and part of a remastered score which Howard Shore composed for the Canadian movie director, screenwriter, actor and novelist David Cronenberg.
Note: an 11pm start tonight, following a longer-than-usual "Opera Night" presentation...