Coming up on the next programme...
March 16. Eamonn links recordings by the late Esbjorn Svensson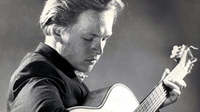 ; lutenist Rolf Lislevand; composer, lecturer and artist Claudia Molitor, from one of a new series of compilation releases by NMC Recordings; a rare recording by cult troubadour Jackson C. Frank (pictured), recently made available on "Fixin' To Die"; Jimmy Smith, on his Hammond organ; piano music by Arnold Schoenberg; part of a movie soundtrack by Thomas Newman; a 2014 ECM issue by jazz pianist Colin Vallon; part of a string quartet by Mendelssohn; vintage Robert Fripp; Elgar and Delius; Cuban pianist Omar Sosa; as well as the last of the week's compositions by Charles Villiers Stanford (see BLUE TUNES, below). 10pm...