Coming up on the next programme...
March 7. This Friday night, we'll hear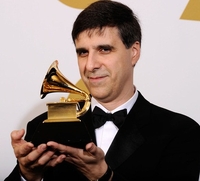 part of a string quartet by César Franck; Nico with the Velvets; new jazz from Elliot Galvin; instrumental Jimmy Page, Robert Plant's Band Of Joy, and Sandy Denny recorded with Led Zeppelin; as well as some re-invented Pergolese.
Also coming our way tonight, Eric Whitacre's "Cloudburst"; chamber jazz, courtesy of the recently-issued ECM debut by Vijay Iyer; 2014 Roger Doyle; a slow movement from Hilding Rosenberg's violin sonata; a little bit of Swedish folk; and bandleader/arranger Vince Mendoza (pictured right, also see BLUE TUNES, below), with singer-songwriter Melody Gardot. A 10pm start-time anticipated...