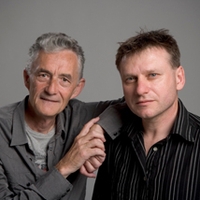 Carl, Eamonn and the backroom team would like to wish all our listeners and contributors (musicians, composers, etc) a very Happy Christmas... and a prosperous 2015!!
Coming up over the Christmas period...
Dec 24. Our Christmas Eve edition includes a tango by Isaac Albéniz; the late Charlie Haden from a 2014 duet with old sparring partner Keith Jarrett; Charles Brown's perennial favourite; the slow movement from a string quartet by Adrian Williams; Laurence Hobgood's reading of "The Twelve Days Of Christmas" (in all 12 keys); more ambient collaborations by Theo Travis and Robert Fripp; samples from 3 newly re-mastered Howard Shore movie soundtracks; and Catriona O'Leary (see BLUE TUNES, below) with Donal Lunny. Note a start-time of 10:20pm (approx)...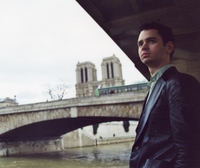 Dec 25. Christmas Day shall draw to a gentle close with the slow movement of Schumann's String Quartet in F Major; some Corsican chant; singers Ane Brun, Cécile McLorin Salvant, Sandra O'Neill, Kate McGarry and Jimmy Webb; more recent offerings by Caitriona O'Leary and Chamber Choir Ireland (see BLUE TUNES, below); guitarist Antoine Berthiaume (pictured, right); Irish guitarist John O'Shea; an interpretation of Poulenc's music by cellist Anne Gastinel; new Danish folk from Trio Mio; Danish jazz pianist Thomas Clausen, playing a melody which dates from the late 18th century; Francois Couturier's re-invention of a Pergolesi piece from the early 18th century; and Elgar's "Serenade For Strings". Join Eamonn just after 10:30pm...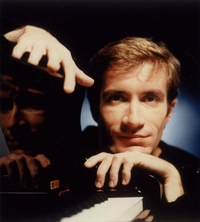 Dec 26. Eamonn is back live in studio to present a wind-down to the festivities and the mayhem of the St Stephen's Day sales, viz. a piano miniature by Howard Skempton; Billie Holiday with Benny Carter; fado singer Antonio Zambujo; the voice of Marina Rossell; virtuoso classical pianist Nikolai Lugansky (pictured, left); Finnish harmonica quartet Svang; a work by Armenian composer, arranger, singer, choirmaster, musicologist and priest, Komitas; Brian Eno, from "Music For Airports"; guitarist Preston Reed; Glam Sam & His Combo (a.k.a. Stockholm-based journalist Mats Samuelsson); soundtrack music by Jon Hopkins; a version of "Black Is the Colour" for cello; Chamber Choir Ireland, directed by Paul Hillier, and Caitriona O'Leary with Donal Lunny (see BLUE TUNES, below); as well as tasteful ukelele-playing by Jon Sanders. 10:05pm...