Coming up on the next programme...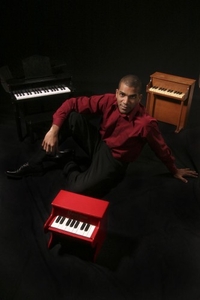 Oct 31. This Halloween night, part one of the the programme is (inevitably) designated to "Dance Of The Vampires", "Blood Count", "Totentanz", "Witchcraft", "The Child Of Dracula And Zombie", "Bewitched", "I Put A Spell On You", Howlin' Wolf et al... For the second half, Eamonn airs more Jacques Loussier (see BLUE TUNES, below), and a number of new releases, including a collaboration between Hardanger fiddle player Nils Okland and 2 members of Norwegian "post-rock" group The Low Frequency In Stereo; another in a series of duet recordings by Robert Fripp and Theo Travis; and Wagner's music, played by Wilhelm Latchoumia (pictured).
A 10:15pm start-time anticipated, immediately following the live opera broadcast from Wexford...