Coming up on the next programme...
March 8. This Saturday, we'll hear a selection from a new CD by Alfredo Rodriguez, who studied piano in Ha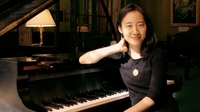 vana's classical conservatories, and has been influenced as much by Bach and Stravinsky as by his Cuban and jazz roots; Friedrich Gulda, an Austrian pianist who performed both jazz and classical music, tackling a Beethoven sonata; new jazz by Helen Sung (pictured); singer/songwriter Tori Amos, re-inventing music by Robert Schumann; classical guitarist Robin Hill, playing a well-known song by Paul McCartney; Loudon Wainwright sings of "Motel Blues"; and we'll listen to Vince Mendoza's arrangement of a Bacharach/David tune for the Dutch singer Traincha and the Metropole Orchestra; and John Scofield, from "A Go Go" (see BLUE TUNES, below). Expect a 10:20pm (approx) start-time...