Coming up on the next programme...
March 15. This Saturday night, Eamonn links a performance of a fand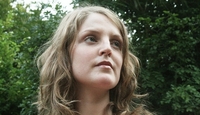 ango by Pepe Habichuela and Dave Holland; Louis Schwizgebel, from the Swiss-born classical pianist's debut CD "Poems"; a new recording by Irish singer Lauren Kinsella (pictured); part of a piano concerto that was played by Beethoven during the composer's first public Vienna appearance back in 1795; interpretations of 3 well-known national anthems by Jim Beard, Amadeus Quartet and Jacky Terrasson; jazz trumpeter Clifford Brown; singer-songwriter Gordon Lightfoot; ol' blue eyes with Bill Miller at the piano; new Bugge Wesseltoft; and more from this week's featured artist, Dublin-born composer Charles Villiers Stanford (see BLUE TUNES, below). 10:05pm (approx)...