Coming up on the next programme...
Dec 13. This Friday the thirteenth, we hea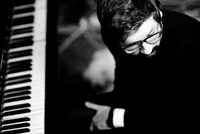 r Emer Mayock's "Lucky Thirteen", a song called "Lucky Day" and something from the CD "Friday The Thirteenth"; we'll also listen to singer/songwriters Krista Detor, Laura Veirs and - from Macroom - Fiona Kelleher; a piano theme by Johnny Dankworth; Canadian-born cellist Julia Kent; Joey DeFrancesco, playing the Hammond organ; 2 contributions from Japanese composer-cum-musician Jun Miyake; the neo-classical/ambient strains of young Russian Misha Mishenko (pictured); seasonal fare performed by the late Dave Brubeck; the closing movement of Symphony No.6 by Vaughan Williams; plus another selection from "Holy Heathens and The Old Green Man" (see BLUE TUNES, below). 10pm start...