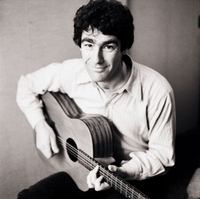 Coming up on Saturday's programme...
Dec 27. Tonight, Eamonn presents Alfred Brendal, performing an F minor piano concerto by Carl Maria von Weber; Nic Jones (pictured), from the re-issue of "Penguin Eggs"; Sam Amidon, and a tune called "Blue Mountains"; we'll also hear 2 x Grieg; "Goodbye To Booze", a line that was surely muttered by one or two revellers over the Christmas period; a new, jazzy interpretation of Lionel Bart's "Where Is Love?"; a live re-working of "The Little Boy That Santa Forgot" by The Associates (first ever time on the programme!); more from Caitriona O'Leary and Chamber Choir Ireland (see BLUE TUNES, below); Ella, singing Bacharach; and Keith Jarrett, playing instruments other than piano.
Note: and early start tonight - 9.45pm or thereabouts...