Coming up on the next programme...
March 9. On Sunday's BLUE, we'll l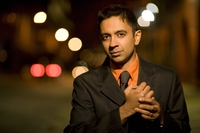 isten to 3 short compositions by Kunihiko Hashimoto; chamber music by Vijay Iyer (pictured), from his recently-issued debut CD for the ECM label; a choral adagio for strings, on the day Samuel Barber was born; a new duet recording by Johannes Ernst (saxophone) and Christoph Israel (piano); Hesperion XXI, from "Orient-Occident II"; Dennis Russell Davies performs music for solo piano by Keith Jarrett; 2 x Grieg; the voice of Sara Mitra; as well as the last of the week's recordings by Vince Mendoza and John Scofield (see BLUE TUNES, below). 10pm...