Coming up on the next programme...
Dec 21. With a December 25th snow-f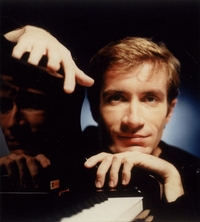 all a distinct possibilty this year, we air an instrumental version of "White Christmas" by guitarist Charlie Byrd. Saturday's edition of BLUE also includes folk songstress Kate Rusby; fado singer Antonio Zambujo; Tibetan artist Soname; and mezzo-soprano Anne Sofie Von Otter (accompanied by Brad Mehldau on piano); the late Jon Lord and the Royal Liverpool Philharmonic; Martin Carthy with Dave Swarbrick; jazz guitarist Philip Catherine; a performance of Liszt by Nikolai Lugansky (pictured); mandolin-player Simon Mayor; and the Oxford Choir conducted by Bob Chilcott. And we've another selection from Laurence Hobgood's "Christmas" (see BLUE TUNES, below).
Please note a 10:15pm start-time...