Coming up on the next Blue of the Night.....
Jan 27. Tuesday's Blue includes selections from the Morelenbaums, Ryuichi Sakamoto and Paulo Jobim (see Blue Tunes below). Scotsman Tony McManus (pictured) link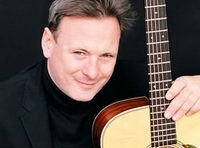 s Trad with a standard - and it works; German guitarist Hille Perl is joined by musical partner lutenist Lee Santana; Karine Polwart will be at Dublin's Temple Bar Trad - she's on our list; cello music from Francois Couperin; an aria from Saint-Saens' Samson and Delilah; part of a Tchaikovsky Symphony; Ireland's Fiona Kelleher; Iceland's Sigur Ros; Scotland's Ian Peaston on violin and electronics; Irish fiddler Toner Quinn pays tribute to Irish singer songwriter Len Graham; For these and more delights join Carl... starting at 10pm....