Coming up on Monday's programme...
Dec 22. Carl will be spending some quality time at home for the next couple of weeks. Meanwhile, Eamonn continues to pace the selections - and himself - during these early stages of his marathon Christmas run.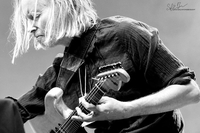 Tonight, we'll hear a sample from a new CD of Schumann string quartets; recent Chick Corea; a poem by Tom Kettle - an Irishman who died at the Somme - put to music by Colin Mawby; folk duo The Hut People; part of a cello sonata by Charles Alkan; Kate Bush, from "Directors' Cut"; 2 new seasonal recordings by Irish artists (see Blue Tunes below) including one from Caitriona O'Leary with Tom Jones; the ambient electric guitar of Eivind Aarset (pictured, © Salvatore Bosco); a "stretched out" Kate Rusby; Laurent Lefrancois' re-invention of a Frescobaldi toccata; folk artist Jackson C. Frank; jazz musician/composer/bandleader Sean Jones; a divertimento by Stravinsky; and a reduction of Stravinsky's "The Rite Of Spring" for two piano-players.
Please note: a slightly delayed commencement anticipated tonight - start-time of no later than 10:10pm...