The Blue of the Night with Carl Corcoran Tuesday 8 April 2014
This week on Blue Tunes...
Kaleidoscope Night is a unique event held on the first Wednesday of the month bringing together the worlds of classical, contemporary and experimental music in the informal and intimate surroundings of Bello Bar on the banks of the Grand Canal in Dublin's Portobello suburb. Last June, we broadcast the night Live on Blue (see video below), bringing their 2015/16 season to a close. Wednesday Sept 7th marks the beginning of the new season and we celebrate that this week by presenting a Blue Room Session with some of the artists lined up for this season opener. This Wednesday Carl is joined by Karen Devan and Lioba Petrie, curators - along with brothers Shahab and Shayan Coohe, Persian classical musicians currently studying Western classical in Dublin. They're also part of the band Navá. And through the week, Carl plays tracks related to the Kaleidoscope line-up including Navá - the exciting new Dublin based band who explore the relationship between the ancient musical cultures of Ireland and Persia.
Shahab and Shayan Coohe try to teach Carl a Persian jig!
August Bank Holiday Monday - Blue of the Night at Kaleidoscope
Enjoy this short video collage of a great night when Blue broadcast live from Kaleidoscope Night at Bello Bar in Dublin last June and re-broadcast on Bank Holiday Monday's Blue (August 1st).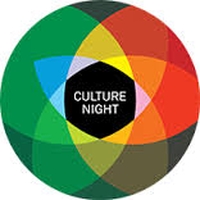 CULTURE NIGHT Friday September 16th 10pm
Music Network 30th Anniversary Concert
We are delighted to be part of RTÉ lyric fm Music Network Culture Night 2016 - broadcast in front of a Live Audience from Studio 1 in Donnybrook on The Purple Vespertine, co-presented by Ellen Cranitch and Carl Corcoran.
The evening features an array of talent: harpist Laoise Kelly; cellists William Butt & Christopher Ellis; the Julien Colarossi Quartet; traditional group Ulaid with vocalist Gráinne Holland and visiting from Norway the trad/folk ensemble, Gjermund Larsen trio.
The concert is free but ticketed with limited access so advance booking is essential. Contact Aisling (publicity@musicnetwork.ie) to reserve, four tickets max per person. Stay tuned to The Purple Vespertine and to Blue or visit www.musicnetwork.ie.