The Blue of the Night with Carl Corcoran Thursday 16 January 2014
The Blue of the Night with Carl Corcoran
Hear Columbian harp player, composer and musical genius Edmar Casteneda recorded in the Triskel, Cork on 27th October during a recent Music Network tour of Ireland.
Something to smile about....
"There is An Island" is the latest Ergodos Musicians' project featuring songs by composers Garret Sholdice and Benedict Schlepper-Connolly and the pure voice of Michele O'Rourke. They joined Carl for a Blue Room Session in advance of their contribution to the Santa Rita Concert Series at the Little Museum of Dublin.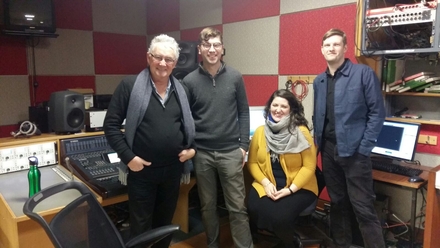 Carl with Benedict, Michelle and Garrett in Studio 8