The Blue of the Night with Carl Corcoran Wednesday 25 December 2013
This Week on Blue....
Mercury nominated and critically acclaimed folk artist Kathryn Williams has teamed up with revered jazz musician and vibraphone player Anthony Kerr to create an album of complete re-imaginings of classic jazz standards. Previously performed by greats such as Doris Day, Edith Piaf and Frank Sinatra, Kathryn and Anthony's version of the infamous song is hushed and delicate – Williams' signature vocal tip-toes over lush, rich vibraphones. The intent of "Resonator" is to 'reclaim' these wonderful songs that have seen multiple cover versions over the years and rearrange them, bringing them back to their most rudimentary state -rebuilding them to make fresh of what has been heard so much. Kathryn and Anthony have revealed true beauty in these old songs, with their fragile delivery both vocally and instrumentally; Williams' signature vocals enriched by soft, lush vibraphones and double bass.

Something to smile about....
"There is An Island" is the latest Ergodos Musicians' project featuring songs by composers Garret Sholdice and Benedict Schlepper-Connolly and the pure voice of Michele O'Rourke. They joined Carl for a Blue Room Session in advance of their contribution to the Santa Rita Concert Series at the Little Museum of Dublin.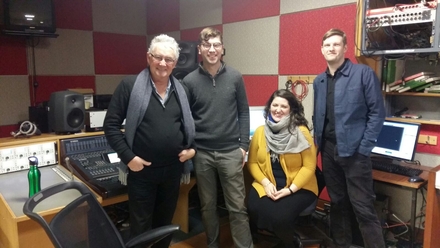 Carl with Benedict, Michelle and Garrett in Studio 8