The Blue of the Night with Carl Corcoran Thursday 19 December 2013
The Blue of the Night with Carl Corcoran
Dave Brubeck called Laurence Hobgood "one of the most incredible pianists", He has a new Christmas CD - hear it and more in the Blue spotlight from 10.
Something to smile about....
"There is An Island" is the latest Ergodos Musicians' project featuring songs by composers Garret Sholdice and Benedict Schlepper-Connolly and the pure voice of Michele O'Rourke. They joined Carl for a Blue Room Session in advance of their contribution to the Santa Rita Concert Series at the Little Museum of Dublin.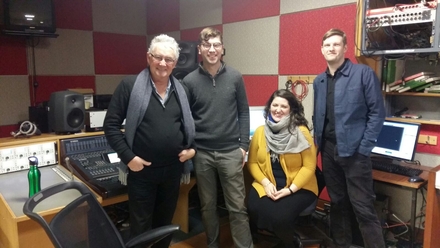 Carl with Benedict, Michelle and Garrett in Studio 8