Coming up on the next programme...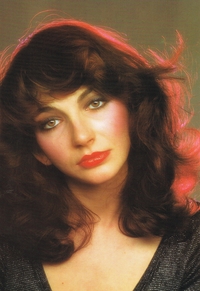 Mar 17. Eamonn sits in for Carl this Bank Holiday Monday to link Irish or Irish-related fare, including Belfast-born pianist Michael McHale; a reading of Mná na hEireann by Kate Bush (pictured. left); jazz bassist-composer David Redmond; guitarist Redmond O'Toole; Seamus Heaney's words put to music by Deirdre Gribben; Heaney himself, reciting Postscript; some Yeats; and a John Field nocturne.
We'll also hear a collaboration between Londoner Kevin Burke and Meath-man Mícheál O Domhnaill; part of Arnold Bax's Winter Legends; gentle Ben Webster's reading of Danny Boy on tenor saxophone; violist Garth Knox; and the first of the week's recordings by Andy Irvine (see BLUE TUNES, below).

We're expecting to start a few minutes before 10pm tonight, immediately following Paul Herriott's live presentation from the National Concert Hall...