The Blue of the Night with Carl Corcoran Tuesday 5 November 2013
This Week on Blue....
This week our featured artist is Italian born Dublin based multi-instrumentalist Francesco Turrisi. Francesco has contributed to many recordings in a variety of styles and genres as well as being a much sought-after exponent of Early Music Improvisation. He's a member of the Early Music ensemble L'Arpeggiata. Hear tracks all week from Francesco's varied discography. And on Tuesday night, in celebration of European Early Music Day, we broadcast a Concert recently performed in Town Hall Bray featuring Francesco in a Trio setting with Marco Ambrosini (nykleharpa) and Rodney Prada (Viola da gamba) - pictured below at rehearsal.(Photo Ben Rawlins)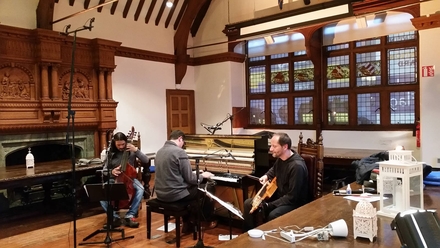 The Blue of the Night with Carl Corcoran
Since moving to Sweden in 2001, Norwegian singer-songwriter Ane Brun has released 8 albums on her own label. We'll hear samples of Ane's output each night this week.
LOUIS REMEMBERED
It's been a sad year for the music world with the loss of many iconic figures. One of our own legends, jazz guitarist Louis Stewart left us earlier this year. Louis' musical legacy is recognised and lauded in the international jazz world. At home in Ireland, where he chose to base himself even at the peak of his international fame, he became a friend and mentor to many in a burgeoning jazz community. His loss is immense. In March 2014, Louis was the featured artist on The Blue of the Night with Carl Corcoran. This special programme features many of Louis' wonderful performances and his chat with Carl, recalling his early days and the highlights of his international career.