The Blue of the Night with Carl Corcoran Thursday 17 October 2013
This Week on Blue....
Luka Bloom(pictured below) has been a highly acclaimed singer/songwriter for nearly four decades, revered at home and abroad for his heartfelt and thought-provoking songs. His most recent album Frugalisto is a collection of acoustic songs sung with heart and soul - several of the songs inspired by his recent move to Clare. We feature tracks from the album this week on Blue and he joins Carl on Wednesday for a Blue of the Night Session - tunes, chats and choices.
You can listen again here:
And on Thursday's Blue - a special treat captured during our recent visit to Castalia Hall. Malcolm Proud and Marja Gaynor LIVE for a performance of German Baroque composer Georg Muffat's Sonata for Violin and basso continuo and Malcolm continues with Couperin's Ordre 22.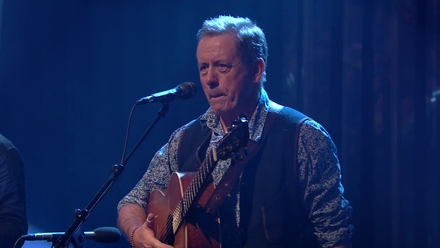 The Blue of the Night with Carl Corcoran
The Blue of the Night connects different musical landscapes - a musical journey through centuries, genres and soundscapes.
LOUIS REMEMBERED
It's been a sad year for the music world with the loss of many iconic figures. One of our own legends, jazz guitarist Louis Stewart left us earlier this year. Louis' musical legacy is recognised and lauded in the international jazz world. At home in Ireland, where he chose to base himself even at the peak of his international fame, he became a friend and mentor to many in a burgeoning jazz community. His loss is immense. In March 2014, Louis was the featured artist on The Blue of the Night with Carl Corcoran. This special programme features many of Louis' wonderful performances and his chat with Carl, recalling his early days and the highlights of his international career.