Coming up on the next programme...
Dec 2. On Wednesday's Blue more from Radu Lupu (see Blue Tunes below); Ian Shaw, Welsh jazz singer soon to visit Cork - a track from his album recorded in Abbey Road; Irish Chamber Orche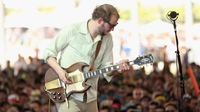 stra play TC Kelly; a String Quartet by Leos Janacek; Swedish singer Rigmor Gustafsson sings Burt Bacharach; Palastrina Choir sing Benjamin Britten; John Hollenbeck leads the Claudia Quintet; Vyvienne Long leads her ensemble including the Blunnie Sisters; Danish roots with Nordens Tone; Belfast jazz piano from Scott Flanigan; a Nocturnal from Einaudi; a Nocturne from Chopin; and a little night music from Sonheim; Oud from Anouar Brahem; Pink Floyd remembered; Irish prog-folk (???) from My Fellow Sponges; one from Justin Vernon aka Bon Iver(pictured); These and lots more with Carl from 10pm .....