The Blue of the Night with Carl Corcoran Thursday 12 September 2013
The Blue of the Night with Carl Corcoran
Muhly balances contemporary classical and indie folk/pop; operas, ballets, chamber works and collaborations with Bjork, Sigur Ros and Essie Jain - nightly on Blue.
Something to smile about....
"There is An Island" is the latest Ergodos Musicians' project featuring songs by composers Garret Sholdice and Benedict Schlepper-Connolly and the pure voice of Michele O'Rourke. They joined Carl for a Blue Room Session in advance of their contribution to the Santa Rita Concert Series at the Little Museum of Dublin.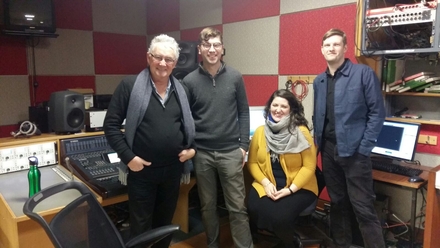 Carl with Benedict, Michelle and Garrett in Studio 8