The Blue of the Night with Carl Corcoran Thursday 15 August 2013
This week on Blue Tunes...
Singer songwriter Daniel Martin Moore hails from the Commonwealth of Kentucky. He has 5 albums to his credit – two of which are released on his own OK Recordings - a label that possesses the clear aim of bringing some great tunes to some discerning ears. That in itself makes him a perfect match for the discerning ears of listeners to Blue. A recent compilation CD Archives Vol 2, chronicles some of his previous recording. We'll delve into that this week and other recordings, a perfect start for the 4th of July.. (Photo Michael Wilson)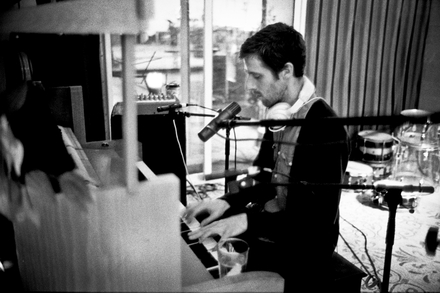 Blue live from Kaleidoscope
On Wednesday June 1st, Blue broadcast live from Kaleidoscope - a evening of live music which has been described as a genre-blind mini festival - much like Blue itself. Listen again to hear harpsichordist David Adams with music old and new; flautist Lina Andonovska with contemporary counterpoint, clarinetist John Finucane with the Kaleidoscope String Quartet, the sweeping musical embrace of Treelan and the unique sound of the New Irish Courtois Trombone Ensemble all presented from the stage by Carl Corcoran. Listen back here (available until 01/07/16)
Carl meets Olatz Zugasti, Sean Keane and Brendan Graham
Olatz Zugasti is a Basque singer and harpist. She's part of the acclaimed Benito Lertxundi Band but also has several albums of her own. Introduced to Irish music on hearing the voice of traditional singer Sean Keane, this fascination led to collaborations with Brendan Graham. She visits Carl for a special Monday Bank Holiday Blue, joined for songs and chat by Sean Keane and Brendan Graham. Listen back here (available until 06/07/16)
The Blue of the Night with Carl Corcoran
This week - 85 years after his death - we're featuring piano cycles by Czech composer, Leos Janácek; nightly performances by Andras Schiff, Leif Ove Andsnes and Lada Valesova.