The Blue of the Night with Carl Corcoran Tuesday 16 July 2013
This week on Blue Tunes...
Unni Løvlid(pictured below) is a Norwegian folk singer whose recordings venture into the contemporary music world. One of her albums was recorded a capella in the Emmanuel Vigeland Mausoleum in Oslo with its very special acoustics while others consist of her own compositions in the experimental electronic field bringing folk songs into completely new timbral landscapes. She was a recent visitor to Ireland when she enthralled audiences along with soundscape artist and reedman Sean MacErlaine. We'll dip into her recordings all this week on Blue where she will enthral us..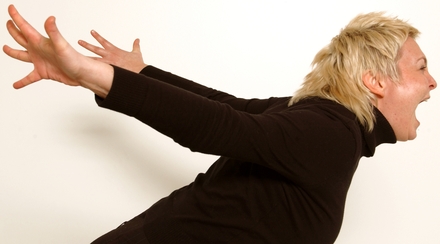 Blue live from Kaleidoscope
On Wednesday June 1st, Blue broadcast live from Kaleidoscope - a evening of live music which has been described as a genre-blind mini festival - much like Blue itself. Listen again to hear harpsichordist David Adams with music old and new; flautist Lina Andonovska with contemporary counterpoint, clarinetist John Finucane with the Kaleidoscope String Quartet, the sweeping musical embrace of Treelan and the unique sound of the New Irish Courtois Trombone Ensemble all presented from the stage by Carl Corcoran. Listen back here (available until 01/07/16)
Carl meets Olatz Zugasti, Sean Keane and Brendan Graham
Olatz Zugasti is a Basque singer and harpist. She's part of the acclaimed Benito Lertxundi Band but also has several albums of her own. Introduced to Irish music on hearing the voice of traditional singer Sean Keane, this fascination led to collaborations with Brendan Graham. She visits Carl for a special Monday Bank Holiday Blue, joined for songs and chat by Sean Keane and Brendan Graham. Listen back here (available until 06/07/16)
The Blue of the Night with Carl Corcoran
On the anniversary of Billie Holiday's death, Carl and Eamonn remember some of Lady Day's finest recordings: Billie with Lester Young, Teddy Wilson; and with string sections.