The Blue of the Night with Carl Corcoran Wednesday 10 July 2013
The Blue of the Night with Carl Corcoran
Contemporary Slovak composer Vladimír Godár is in the spotlight. Join Carl and Eamonn on the Blue as they play extracts from his Cantata "Mater", film scores and transcriptions.
Also played on Wednesday 10th July
Track name: Ghosts
Composer: Sylvian, David
Performed by: David Sylvian (vocals), Steve Jansen (percussion, keyboards), Richard Barbieri (keyboards, tapes), Mick Karn (bass guitar)
Album Title: Tin Drum
Record Label: EMI
Catalogue No: 0946 3 63061 2 4
Track Name: Mood for a Day
Composer: Howe, Steve
Performed by: Steve Howe (guitar)
Album Title: Fragile
Record Label: Elektra Rhino
Catalogue No: 8122-73789-2
Track Name: Sea Fog
Composer: Keane
Performed by: Tom Chaplin (vocals), Tim Rice-Oxley (piano)
Album Title: Strangeland
Record Label: Island
Catalogue No: 2794838
Something to smile about....
"There is An Island" is the latest Ergodos Musicians' project featuring songs by composers Garret Sholdice and Benedict Schlepper-Connolly and the pure voice of Michele O'Rourke. They joined Carl for a Blue Room Session in advance of their contribution to the Santa Rita Concert Series at the Little Museum of Dublin.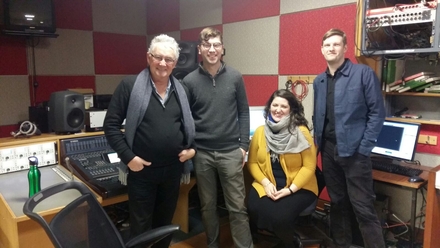 Carl with Benedict, Michelle and Garrett in Studio 8