The Blue of the Night with Carl Corcoran Thursday 6 June 2013
This week on Blue ...
While Carl takes a week off, the wonderful Aedin Gormley shares the Blue of the Night duties with the equally superb Bernard Clarke. They'll bring you their Blue gem choices Monday through Thursday. Enjoy!
More Music Played on the Show
Track Name: Horizon Variations
Composer: Richter, Max
Duration: 01:53
Track Name: Avondale
Composer: Condell, Sonny
Duration: 03:25
Track Name: Send in The Clowns
Composer: Sondheim, StephenSoloist: Theo Bleckmann (vocals)
Duration: 03:37
Track Name: The Water
Composer: Feist / Canning
Duration: 04:24
Track Name: Over The Rainbow
Composer: Harburg, E.Y./Arlen, Harold
Duration: 05:09
Track Name: Nocturne
Composer: Bax, Arnold
Duration: 05:37
Something to smile about....
"There is An Island" is the latest Ergodos Musicians' project featuring songs by composers Garret Sholdice and Benedict Schlepper-Connolly and the pure voice of Michele O'Rourke. They joined Carl for a Blue Room Session in advance of their contribution to the Santa Rita Concert Series at the Little Museum of Dublin.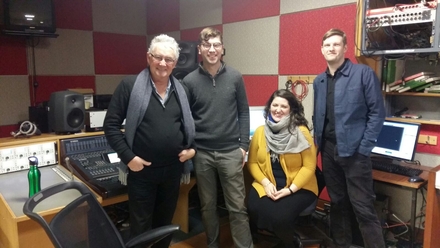 Carl with Benedict, Michelle and Garrett in Studio 8