Coming up on the next programme...Thursday

Dec 19. Carl brings more festive offerings to the airwaves; John Renbourne and Bert jansch provide the folk angle; Judi Dench (see pic with Philomena) rea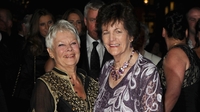 d Corpus Christi while Jeff Buckley sings it; movie music from Alexandre Desplat's soundtrack to Philomena; Christmas choral participation from various sources; Micheal O'Suilleabhain is featured and so too his "two lads" Eoin and Moley; Moonlight Sonata from Beethoven and more from an artist we're featuring all this week, American pianist/composer Laurence Hobgood (see Blue Tunes below).
Usual 10pm start-time...