Opera Night Saturday 24 May 2014
The Metropolitan Opera New York Saturday Matinee Broadcasts
Launched in 1931, the Met's Saturday matinee broadcasts are the longest-running continuous classical radio series in American broadcast history. The 86th season of Saturday broadcasts will once again be heard over the Toll Brothers–Metropolitan Opera International Radio Network. You can hear the 2016/17 Season every Saturday from 7pm on Opera Night and for details of the season, view their schedule here.
Saturday 20th May - Verdi's Luisa Miller
Bernard Clarke presents the first of seven operas from the San Francisco Opera. A father's betrayal. A daughter's sacrifice. Longing only for love, a brave young woman sacrifices her own happiness in a desperate attempt to save her father's life. Revered for its masterful depiction of intimate emotions, Verdi's swiftly moving tragedy explores the forbidden passion between a peasant girl and a nobleman and the plotting of two ruthless men determined to tear them apart. This production was recorded at the War Memorial Opera House, San Francisco and feature Leah Crocetto in the title role, tenor Michael Fabiano is Rodolfo, baritone Vitaliy Bilyy is the Miller, bass-baritone Daniel Sumegi sings Count Walter, Mezzo Ekaterina Semenchuk is Federica, bass Andrea Silvestrelli is Wurm, soprano Jacqueline Piccolino is Laura, tenor Christopher Jackson is a Peasant, and the San Francisco Opera Chorus and Orchestra is conducted by Nicola Luisotti. (Pictured - soprano Leah Crocetto and tenor Michael Fabiano in Verdi's Luisa Miller - Photo Cory Weaver, SFO)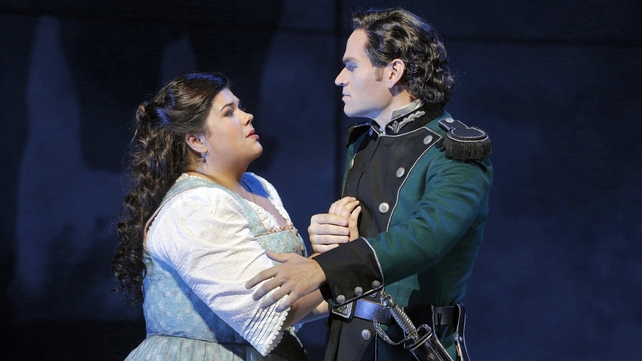 Saturday 27th May - San Francisco Opera presents Donizetti's Lucia di Lammermoor
Pressured by her family to marry the wrong man, an anguished young woman suffers an emotional breakdown on her wedding night.Soprano Nadine Sierra (pictured) sings the title role, tenor Piotr Beczala is Edgardo, baritone Brian Mulligan is Enrico, bass-baritone Nicolas Teste is Raimondo, Mezzo Zanda Svede is Alisa, tenor AJ Glueckert is Normanno, tenor Chong Wang is Arturo and the San Francisco Opera Chorus and Orchestra is conducted by Nicola Luisotti.