Opera Night Saturday 1 February 2014
Opera Night
Live from The Metropolitan Opera, New York - Puccini's Madama Butterfly
Anthony Minghella's breathtakingly beautiful and powerfully dramatic production returns to the Met, with Amanda Echalaz inher Met debut season as the tragic Cio-Cio-San. Rising tenor Bryan Hymel is Pinkerton and Philippe Auguin conducts.
Saturday 29th July - Wagner's Die Walkure
The Swedish Royal Opera, Stockholm presents Wagner's Die Walkure. Soprano Nina Stemme is Brunnhilde, Michael Weinius is Siegmund, Cornelia Beskow is Sieglinde, Lennart Forsen is Hunding, John Lundgren is Wotan, Katarina Dalayman is Fricka, Susanna Stern is Gerhilde, Angela Rotondo is Ortlinde, Marie-Louise Granstrom is Waltraute, Katarina Leoson is Schwertleite, Sara Olsson is Helmwige, Monika Mannerstrom Skog is Siegrune, Johanna Rudstrom is Rossweisse and Kristina Martling is Grimgerde in a production with the Swedish Royal Opera Chorus and Orchestra conducted by Marko Letonja. (Photo Credit Markus Gårder)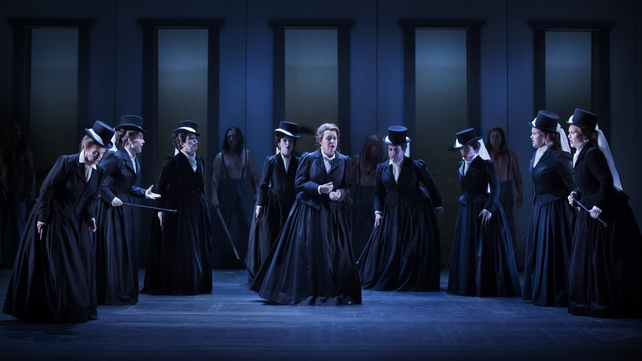 Saturday 5th August - Handel's Acis and Galatea
Shepherds and nymphs enjoy the pleasure of nature. Galatea, a semi-divine nymph, is in love with the shepherd Acis, and tries to hush the birds that ignite her passion for him. Acis's close friend, the shepherd Damon, provides counsel to the lovers as they pursue each other. Acis and Galatea is conducted by Peter Whelan and performed by the dazzling Irish Baroque Orchestra and features tenor Eamonn Mulhall and soprano Susanna Fairbairn as the thwarted lovers with bass baritone Edward Grint as Polyphemus and tenor Andrew Gavin as Damon.