Opera Night Saturday 18 January 2014
The Metropolitan Opera New York Saturday Matinee Broadcasts
Launched in 1931, the Met's Saturday matinee broadcasts are the longest-running continuous classical radio series in American broadcast history. The 86th season of Saturday broadcasts will once again be heard over the Toll Brothers–Metropolitan Opera International Radio Network. You can hear the 2016/17 Season every Saturday from 7pm on Opera Night and for details of the season, view their schedule here.
Saturday April 1st - Beethoven's Fidelio
Beethoven's only opera—an ode to freedom, justice, and the human spirit—returns to the Met with a fine cast. Adrianne Pieczonka is Leonore, who, disguised as Fidelio, courageously fights for her husband Florestan's freedom. Klaus Florian Vogt is Florestan, Greer Grimsley is Don Pizarro, and Falk Struckmann is Rocco. Sebastian Weigle conducts. (Pictured below, a scene from Beethoven's Fidelio. Photo by Ken Howard, Metropolitan Opera.)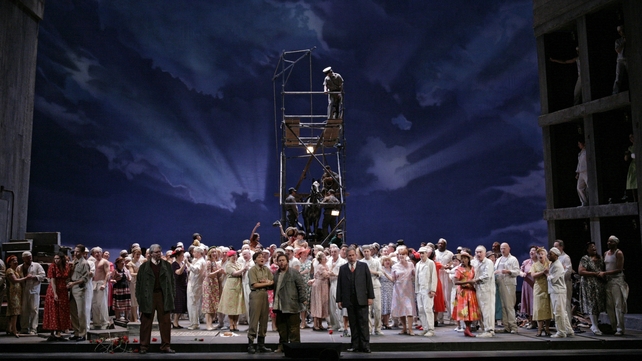 Saturday 8th April - Wagner's Tristan und Isolde
Tristan und Isolde and will be well served by a cast of outstanding Wagnerians: Nina Stemme as Isolde, Stuart Skelton as Tristan, Ekaterina Gubanova as Brangäne, and René Pape as King Marke, with Sir Simon Rattle conducting, in one of his rare appearances at the Met.
An "audacious new production… Compelling, vulnerable performances… from a strong cast, especially the astonishing soprano Nina Stemme… [Her Isolde is] outstanding... from steely rawness to melting warmth." Stuart Skelton "sings with musical integrity and feeling." Simon Rattle conducts with "impressively balanced clarity and richness, coolness and intensity, intelligence and impetuosity." - New York Times(Pictured - Stuart Skelton and Nina Stemme in the title roles of Wagner's Tristan und Isolde. Photo by Ken Howard, Metropolitan Opera.)