Opera Night Saturday 22 June 2013
Opera Night - Verdi's Macbeth
It is not the last word in sophistication, it sometimes lurches back and forth between breathless, barrel-thumping choruses and highly nuanced and thoughtful character studies, but Macbeth is extraordinarily exciting and testament to the young Verdi's desire to really trying something new. This week's Opera Night has a performance from the Lyon Opera House from winter of last year and features the Lyon Opera Chorus & Orchestra under conductor Kazushi Ono. The soloists include Evez Abdulla, baritone, as Macbeth; Riccardo Zanellato, bass, as Banco (Banquo); and Dmytro Popov, tenor, as Macduff...
Verdi famously maintained he wanted a "she devil" in the role of Lady Macbeth-find out how rising Russian soprano Iano Tamar copes with this lady of pure evil.
The Metropolitan Opera New York Saturday Matinee Broadcasts
Launched in 1931, the Met's Saturday matinee broadcasts are the longest-running continuous classical radio series in American broadcast history. The 86th season of Saturday broadcasts will once again be heard over the Toll Brothers–Metropolitan Opera International Radio Network. You can hear the 2016/17 Season every Saturday from 7pm on Opera Night and for details of the season, view their schedule here. (Please note that instead of the scheduled Met broadcast on December 24th, we will bring you an Opera Gala with Angela Gheorghiu recorded earlier this year at the National Concert Hall.)
Saturday December 3rd - Puccini's Manon Lescaut
Anna Netrebko sings the title role of Manon Lescaut, a heroine as alluring and irresistible as her adored city of Paris. Marcelo Álvarez is her obsessed lover in the opera that made Puccini famous, showcased in Richard Eyre's heated,1940s film noir–inspired production, with Marco Armiliato on the podium conducting the Metropolitan Opera Orchestra and Chorus. (Pictured - a scene from Puccini's Manon Lescaut. Photo by Ken Howard, Metropolitan Opera).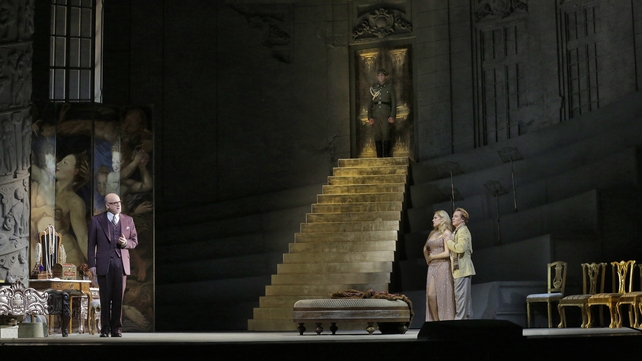 Saturday December 10th - Kaija Saariaho's L'amour De Loin
Finnish composer Kaija Saariaho's breakthrough opera was described by the New York Times as "transfixing…a lushly beautiful score." Commissioned by the Salzburg Festival, where it was first seen in 2000, it will now finally have its Metropolitan Opera premiere in a dazzling new production by Robert Lepage. Eric Owens is the knight on a quest of love and Susanna Phillips is his lover on the other side of the sea. Conductor Susanna Mälkki makes her Met debut. (Eric Owens and Susanna Phillips as in Kaija Saariaho's L'Amour de Loin. Photo by Kristian Schuller, Metropolitan Opera)