Opera Night Saturday 22 June 2013
Opera Night - Verdi's Macbeth
It is not the last word in sophistication, it sometimes lurches back and forth between breathless, barrel-thumping choruses and highly nuanced and thoughtful character studies, but Macbeth is extraordinarily exciting and testament to the young Verdi's desire to really trying something new. This week's Opera Night has a performance from the Lyon Opera House from winter of last year and features the Lyon Opera Chorus & Orchestra under conductor Kazushi Ono. The soloists include Evez Abdulla, baritone, as Macbeth; Riccardo Zanellato, bass, as Banco (Banquo); and Dmytro Popov, tenor, as Macduff...
Verdi famously maintained he wanted a "she devil" in the role of Lady Macbeth-find out how rising Russian soprano Iano Tamar copes with this lady of pure evil.
The Metropolitan Opera New York Saturday Matinee Broadcasts
Launched in 1931, the Met's Saturday matinee broadcasts are the longest-running continuous classical radio series in American broadcast history. The 86th season of Saturday broadcasts will once again be heard over the Toll Brothers–Metropolitan Opera International Radio Network. You can hear the 2016/17 Season every Saturday from 7pm on Opera Night and for details of the season, view their schedule here.
Saturday 25th February - Dvorak's Rusalka
Kristine Opolais stars in the role that helped launch her international career, the mythical Rusalka, who sings the haunting "Song to the Moon." Mary Zimmerman brings her wondrous theatrical imagination to Dvorák's fairytale of love and longing, rejection and redemption. Brandon Jovanovich, Jamie Barton, Katarina Dalayman, and Eric Owens complete the all-star cast, and Mark Elder conducts. (Kristine Opolais in the title role and Jamie Barton as Ježibaba in Dvorák's Rusalka. Photo by Ken Howard/ Metropolitan Opera)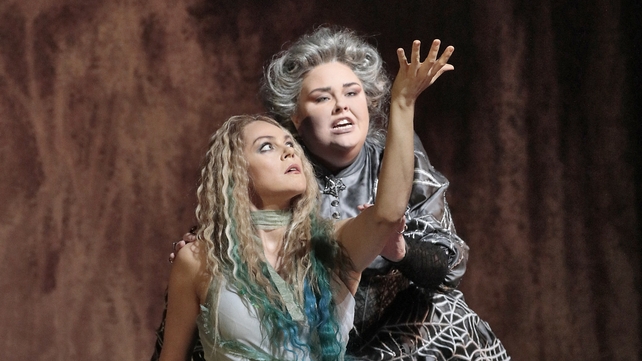 Saturday March 4th - Opera Night presents Gerald Barry's Alice's Adventures Under Ground
7:00m Bernard brings us some exclusive RTÉ lyric fm recorded works by Gerald Barry Gerald Barry live from
7:30pm Gerald Barry's Alice's Adventures Under Ground presented by New Music Dublin
Opera through the looking glass: Lewis Carroll meets classical music's funniest living composer in Gerald Barry's uproarious new opera featuring: Claudia Boyle, Clare Presland, Hilary Summers, Joshua Bloom,
Peter Tantsits, Daniel Norman and Stephen Richardson
RTÉ Concert Orchestra
Thomas Ades (conductor)
8.30pm Carl Orff's Die Klugge
We'll also include a fairy-tale opera by Carl Orff, Die Kluge, based on the Brothers Grimm story, The Story of the King and the Wise Woman. Thomas Stewart sings the role of the king, bass Gottlieb Frick is the peasant and Lucia Popp sings the role of his daughter, with the Munchner Rundfunkorchester conducted by Kurt Eichhorn.