Opera Night Saturday 22 June 2013
Opera Night - Verdi's Macbeth
It is not the last word in sophistication, it sometimes lurches back and forth between breathless, barrel-thumping choruses and highly nuanced and thoughtful character studies, but Macbeth is extraordinarily exciting and testament to the young Verdi's desire to really trying something new. This week's Opera Night has a performance from the Lyon Opera House from winter of last year and features the Lyon Opera Chorus & Orchestra under conductor Kazushi Ono. The soloists include Evez Abdulla, baritone, as Macbeth; Riccardo Zanellato, bass, as Banco (Banquo); and Dmytro Popov, tenor, as Macduff...
Verdi famously maintained he wanted a "she devil" in the role of Lady Macbeth-find out how rising Russian soprano Iano Tamar copes with this lady of pure evil.
Saturday October 21st
In advance of our broadcasts from the Wexford Festival Opera 2017, Paul Herriott presents Guglielmo Ratcliff by Pietro Mascagni in a 2015 RTÉ lyric fm CD recording of the opera from the National Opera House. Tenor Angelo Villari sings the title role, Mariangela Sicilia sings Maria, David Stout sings Count Douglas, Annunziata Vestri sings Margherita, Gianluca Buratto sings MacGregor and Alexandros Tsilogiannis is Lesley, Quentin Hayes is Tom and Sarah Richmond is Willie and Francesco Cilluffo conducts the Orchestra and Chorus of Wexford Festival Opera. (Angelo Villari in Guglielmo Ratcliff by Mascagni - Photo by Clive Barda)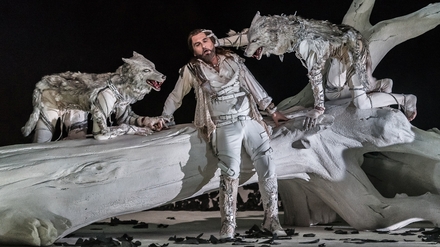 ---
WATCH: Saturday October 14th - Robert O'Dwyer's Eithne
Doireann Ní Bhriain presents Robert O'Dwyer's Eithne live from the National Concert Hall, Dublin, a romantic adaptation of a mysterious ancient Irish legend, as the mortal son of Ireland's High King falls in love with the magical Eithne, daughter of the King of Tír na nÓg.
'Bhí an ceoldráma seo ligthe i ndearmad ar fad go dtí gur tháinig an scór chun cinn ag ceannt i 2002, áit ar cheannaigh Leabharlann Náisiúnta na hÉireann é,' a deir Grúpcheannasaí Gaeilge, Rónan Mac Con Iomaire. 'Is beag a cheap ag an am go gcuirfí a léithid de cheoldráma ar mhór-scála, go hiomlán trí Ghaeilge, ar stáitse arís go brách, ach tá sé iontach anois go mbeidh an deis ag an bpobal Ceolfhoireann Siansa Náisiúnta RTÉ a fheiceáil i mbun a léirithe sa bhfómhar."
Tá ceol Eithne báite i traidisiúin ceoldrámaíochta na hEorpa mar a bhí ag deireadh an naoiú céad déag, le tionchar Dvorák agus Wagner le sonrú sa gceol. Insíonn an ceoldrama scéal banphrionsa Thír na nÓg, agus a haistir ar fud na cruinne ar thóir laoch a thabharfadh ar ais chuici a máthair a bhí curtha faoi gheasa.
A rare example of an opera with the libretto in the Irish language. Eithne stars internationally acclaimed artists soprano Orla Boylan (pictured) as Eithne, baritone Gavan Ring as the High King of Ireland and tenor Robin Tritschler as Ceart, Eithne's lover. The chorus of Opera Theatre Company and the RTÉ National Symphony Orchestra are conducted by Fergus Sheil.