This week Marty Recommends..........

In a sense, nearly every album Eric Clapton recorded after 1970 has been a tribute to J.J. Cale. On that first solo album, Clapton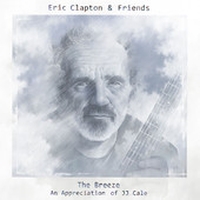 cut a cover of Cale's "After Midnight" and while he was under the spell of Delaney Bramlett for that album, soon enough Slowhand began drifting toward the laconic shuffle that was Cale's stock in trade.

Clapton never hesitated to credit Cale, dropping his name in interviews, turning "Cocaine" into a modern standard, even going so far as to record an entire duet album with the Oklahoma troubadour called The Road to Escondido in 2006. In other words, E.C. owed J.J. little but after Cale passed at the age of 74, the guitarist decided to pay a full-scale tribute in the form of the 2014 LP The Breeze: An Appreciation of J.J. Cale.