This week Marty Recommends...........

Pat Coldricks much anticipated new album 'Cityjam' has just been released. Hailed as a classical guitarist and composer one thing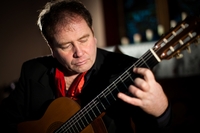 that will strike you is that this is not what you were expecting.

Unless you have been to one of Coldricks recent intimate concerts where only the discerning have had little tasters of this album, you will not have heard this piece, you will not have experienced the energy, edginess and pure electricity that exudes from this performance, you will not know the ethos of this performer, what he has been trying to tell us all along….. Until now.