Marty in the Morning Friday 24 January 2014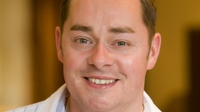 You can find all of Neven Maguires
delicious recipes from the Marty in the Morning
Friday programmes going back over the months,
by clicking here.
Neven' Recipes - Homemade Pizza
Serves 4

350g (12oz) strong white flour, extra for dusting
7g sachet easy-blend yeast
1 tsp salt, 225ml (8fl oz) warm water
2 tbsp extra virgin olive oil, extra for greasing and drizzling, 2 tsp semolina or dried white breadcrumbs
8 tbsp passata rustica (crushed tomatoes)
a few fresh basil leaves, torn, extra to garnish
150g (5oz) ball of mozzarella, drained and roughly chopped 25g (1oz) freshly grated Parmesan
40g (1 ½oz) rocket sea salt and freshly ground black pepper.

Place the flour, yeast and salt in a food processor fitted with a dough attachment (or use a bowl and a wooden spoon if you don't have a processor). Mix the warm water and oil in a jug. With the motor running, slowly pour the oil mixture through the feeder tube (or stir by hand) and mix until you have achieved a soft, stretchy dough. Knead for 5 minutes in the machine or for 10 minutes by hand on a lightly floured work surface.

Transfer the dough to a lightly oiled bowl. Rub the top with a little more oil and then cover with a clean, damp tea towel. Set aside at room temperature for 1 hour, or until the dough has doubled in size. Preheat the oven to 240°C (475°F/gas mark 9).

Punch the dough down with a clenched fist. Remove the dough from the bowl and knead for a couple of minutes until smooth, then cut in half and roll each half out on a lightly floured surface into a 25cm (10in) circle. Sprinkle the semolina or breadcrumbs onto 2 large, flat baking sheets and transfer the pizza bases on top.

Season the passata to taste and then spread it over the pizza bases, leaving a 1cm (½in) border around the edges. Scatter over the basil, then drizzle over a little olive oil and scatter the mozzarella and Parmesan on top. Bake for 10–12 minutes, until the base is crisp and the cheeses are bubbling and lightly golden. Remove from the oven and drizzle over a little more olive oil, then scatter over the rocket and garnish with more basil. Season to taste.
To serve, cut the pizzas into wedges and arrange on warmed serving plates.
Variations
American Hot

Prepare the bases with the passata, basil and olive oil and then scatter over 50g
(2oz) thinly sliced pepperoni and 50g (2oz) drained, sliced jalapeño chillies (from a
jar or can). Finish and serve as described above.
Listen back here to the interviews from Marty in the Morning
Live from Venice and Verona from 2015

Including clips from back stage at the Arena di Verona, comment from Irish audience members on tour with the Travel Department.ie & recordings from a beautiful vineyard near Verona!