Marty in the Morning Friday 20 December 2013
To all our followers on twitter, old and new and to the next 10,000 with much fun an glorious music on the way.



Neven's Recipies - Maple Glazed Ham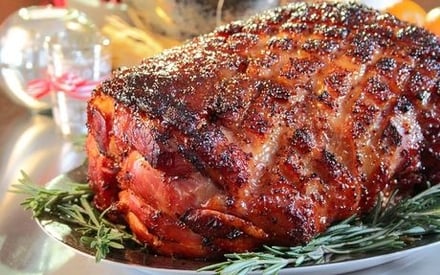 A traditional ham is the perfect choice if you've got hordes of visitors to feed, so it's especially good to have over the festive period. A certain crowd pleaser, it tastes equally good served hot or cold. Have you ever wondered what the difference is between ham, bacon and gammon? Bacon is cured pork; gammon is a hind leg cut of bacon; and once gammon is cooked, it's called ham. Any leftovers from this ham or a turkey can be used in countless other dishes, such as in a creamy filling for vol-au-vents, in risottos or just the ham is excellent for a spaghetti carbonara, so there's no waste – even the bone will make a wonderful stock.
Serves 10–12
5.25kg (11lb) leg of gammon (on the bone and skin on)
4 celery sticks, roughly chopped
2 onions, sliced
1 bunch of fresh thyme
1 tbsp black peppercorns
200ml (7fl oz) Irish whiskey
200ml (7fl oz) maple syrup
2 tbsp redcurrant jelly
2 tbsp balsamic vinegar
1 tbsp ground allspice
1 tbsp whole cloves
Pineapple salsa:
1 ripe pineapple, peeled, cored and cut into 1cm (½in) dice
1 tbsp caster sugar
1 small red onion, finely chopped
finely grated rind and juice of 1 lime
½ large red chilli, seeded and finely chopped
1 tbsp chopped fresh mint
1 tbsp chopped fresh coriander
2 tsp freshly grated root ginger
sea salt and freshly ground black pepper
Although gammon is less salty nowadays, soaking is still a good idea. Place the gammon
in a large pan and cover with cold water. Leave to soak for at least 6 hours or overnight is best, then drain.
Weigh the gammon joint and calculate the cooking time, allowing 20 minutes per 450g
(1lb) plus 20 minutes – a 5.25kg (11lb) joint should take about 4 hours. Place in a large pan, cover with water and bring to the boil, skimming off any scum. Add the celery, onions, thyme and peppercorns and return to the boil, then cover, reduce the heat and simmer until completely tender, occasionally skimming off any scum that rises to the top. If you aren't sure the gammon is properly cooked, check the bone end – it should come away freely from the gammon joint. Drain and leave until it's cool enough to handle.
Preheat the oven to 180°C (350°F/gas mark 4).
Carefully peel away the skin, leaving the layer of white fat intact. Using a sharp knife, score the fat diagonally to make a diamond pattern, being careful not to cut into the meat. Place the whiskey in a pan with the maple syrup, redcurrant jelly, balsamic vinegar and ground allspice. Bring to the boil and simmer for about 10 minutes, until slightly thickened. Stud the ham with the cloves and place in a large roasting tin with a little water to prevent the bottom from catching and burning. Brush a layer of the syrup all over the ham, reserving the remainder. Cook for 1 hour, brushing over another layer of the glaze every 15 minutes, until it's all gone. Remove the cooked ham from the oven, transfer to a serving platter and leave to rest for 15 minutes.
Meanwhile, make the pineapple salsa. Mix the diced pineapple with the sugar. Heat a non-stick frying pan over a high heat, add the pineapple and cook quickly for about 2 minutes to lightly caramelise it. Tip into a bowl and add the onion, lime rind and juice, chilli, herbs and ginger. Season to taste and set aside to allow the flavours to develop.
To serve, carve slices from one side of the ham, cutting diagonally to achieve an even thickness.
When you reach the bone, insert the knife at a flatter angle and slice across the top of
the bone. Turn over the leg to carve slices from the other sides. Arrange on serving plates with spoonfuls of the pineapple salsa.
---
RTE lyricfm are delighted to showcase some of this year's Award recipients from the recent
"Georgina Campbell Irish Breakfast Awards" - In Association with Fáilte Ireland, with a special prize each week to celebrate their success. The Georgina Campbell's Ireland Guide is accompanied by the website www.ireland-guide.com
The prize this week is;



A Luxurious Midweek Break For Two at Galgorm Resort & Spa", Ballymena, Co. Antrim, N'

Ireland.
Two Nights Bed & Award Winning Full Irish Breakfast in a Deluxe Guestroom for two persons sharing in Galgorm Resort & Spa.
Gourmet Dinner for two on One Evening in any of the Resort Restaurants at Galgorm Resort & Spa.
Access for two guests to the Thermal Spa Village at Galgorm Resort & Spa.
(Valid Sunday – Thursday, subject to availability. Valid to 31.01.2018. Prize based on 2 x guests sharing )
Galgorm Resort & Spa is Northern Ireland's Premier Luxury Hotel and Spa situated only 30 minutes from Belfast. Set within 163 acres of lush parkland with the spectacular River Maine flowing through the estate, Galgorm Resort & Spa has a truly unique setting. Close to both Belfast airports and the stunning scenery of the North Antrim Coast, it is the perfect base from which to explore the region's most renowned attractions.
Our range of restaurants and bars offers an unparalleled selection of flavors, themes and dining experiences. Whether you are looking to enjoy the decadence of Afternoon Tea in the stunning setting of our Conservatory, elegant dining in the 3AA Rosette River Room, the casual setting of Gillies Bar & Grill or family friendly traditional Italian in Fratelli, there is an option for you at Galgorm Resort & Spa.

Allow our award winning spa facilities, professional service and prestigious product selection guide you on a journey of re-discovery… invigorate your senses, awaken your mind and truly relax your body and soul.Exclusively designed for at The Spa at Galgorm, our signature treatments offer an unparalleled Spa experience. Allow our skilled therapists and the power of our natural luxury skin care selection to immerse you in tranquility.
---

Food with Neven Maguire
You can find all of Neven's delicious recipes from the Marty in the Morning Friday programmes going back over the months, by clicking here.
---
"Marty Recommends…More" out now!. on Universal Music Ireland.





The wonderful one-disc collection will features 23 classic titles all carefully chosen by Marty Whelan.
Now in its third instalment of "Marty Recommends"…The album follows the hugely successful 2015 release "Marty Recommends" achieving Gold Status and most recently the festive "Marty Recommends…Christmas" edition. The catalyst of which was devised from this daily show with RTÉ Lyric FM "Marty in The Morning". Click here for details and full track listing.
---



An exclusive look behind the scenes with Marty in the Morning. Click here to watch now and stay tuned!
---