Marty in the Morning Monday 16 December 2013
Marty in the Morning
Marty takes the chill out of your early Winter mornings with music, news, weather and travel updates.
'A Musical Affair'
Marty Reccommends all this week

Il Divo 'A Musical Affair' (Deluxe Gift Edition CD/DVD)
The greatest songs of all time from the world's favourite musicals.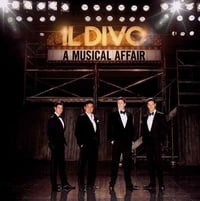 "A Musical Affair" sees Il Divo sing the music from classic musicals Les Miserables, Phantom of Opera, West Side Story, Cats and more.
The album has also seen Il Divo team up with some of the world's best known singers to feature in a series of duets, with Barbra Streisand, Nicole Scherzinger, Heather Headley, Kristen Chenoweth and Michael Ball.
Win a trip to Italy for two with Travel Department. Click here for prize details





All this week stay tuned to Marty in the Morning for your chance to win a fantastic week long holiday for two people, to Italy with Travel Department. We will have a separate question each day, with the five daily winners going into the Lyric hat, from which a winner will be chosen on Friday 27th of January. Terms and conditions apply.
---

Food with Neven Maguire.
You can find all of Neven's delicious recipes from the Marty in the Morning Friday programmes going back over the months, by clicking here.
---



An exclusive look behind the scenes with Marty in the Morning. Click here to watch now and stay tuned!
---



Marty Meets Van Morrison in Belfast for an exclusive interview. Listen back here to part 1.