Marty in the Morning Monday 16 December 2013
Marty in the Morning
Marty takes the chill out of your early Winter mornings with music, news, weather and travel updates.
'A Musical Affair'
Marty Reccommends all this week

Il Divo 'A Musical Affair' (Deluxe Gift Edition CD/DVD)
The greatest songs of all time from the world's favourite musicals.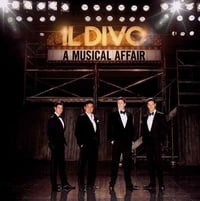 "A Musical Affair" sees Il Divo sing the music from classic musicals Les Miserables, Phantom of Opera, West Side Story, Cats and more.
The album has also seen Il Divo team up with some of the world's best known singers to feature in a series of duets, with Barbra Streisand, Nicole Scherzinger, Heather Headley, Kristen Chenoweth and Michael Ball.
Win an unforgettable trip to a performance of Puccini's 'Madame Butterfly' at the Arena di Verona,
Tune in to Marty the Morning all this week to be in with a chance, with Travel Department.
See here for full details.





Join Marty for the opera trip of a lifetime. During this magical holiday, explore the historic towns that hug the coast of Lake Garda and stroll through quaint streets and squares, all set in the tranquil surroundings of blue waters and towering mountains.
---



"Marty Recommends…More" out now!. on Universal Music Ireland.

The wonderful one-disc collection will features 23 classic titles all carefully chosen by Marty Whelan.
Now in its third instalment of "Marty Recommends"…The album follows the hugely successful 2015 release "Marty Recommends" achieving Gold Status and most recently the festive "Marty Recommends…Christmas" edition. The catalyst of which was devised from this daily show with RTÉ Lyric FM "Marty in The Morning". Click here for details and full track listing.
---

Food with Neven Maguire
You can find all of Neven's delicious recipes from the Marty in the Morning Friday programmes going back over the months, by clicking here.
---



An exclusive look behind the scenes with Marty in the Morning. Click here to watch now and stay tuned!
---



Marty Meets Van Morrison in Belfast fo r an exclusive interview. Listen back here to part 1.