Marty in the Morning Monday 16 December 2013
Marty in the Morning
Marty takes the chill out of your early Winter mornings with music, news, weather and travel updates.
'A Musical Affair'
Marty Reccommends all this week

Il Divo 'A Musical Affair' (Deluxe Gift Edition CD/DVD)
The greatest songs of all time from the world's favourite musicals.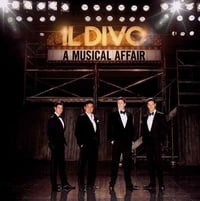 "A Musical Affair" sees Il Divo sing the music from classic musicals Les Miserables, Phantom of Opera, West Side Story, Cats and more.
The album has also seen Il Divo team up with some of the world's best known singers to feature in a series of duets, with Barbra Streisand, Nicole Scherzinger, Heather Headley, Kristen Chenoweth and Michael Ball.