Marty in the Morning Friday 7 June 2013
This week on Marty in the Morning and
in association with Georgina Campbell Irish Breakfast Awards,
Tune in for your chance to win a Luxury Stay for Two at The Merrion, Dublin.



RTE lyricfm are delighted to showcase some of this year's Award recipients from the recent "Georgina Campbell Irish Breakfast Awards" - In Association with Fáilte Ireland
with a special prize each week to celebrate their success.

The Georgina Campbell's Ireland Guide is the leading independent Irish hospitality guide which attracts a national and international audience to visit the very best places to eat, drink & stay across the island of Ireland.

The Prize includes;
"One night at The Merrion, Dublin in a Luxury Garden Wing Room for two persons sharing,
an Award Winning Full Irish Breakfast for two the following morning,
Dinner for Two in the Cellar Restaurant and an Audio Art Tour of Ireland's largest private art collection, accompanied by a glass of Champagne. (The voucher is subject to availability.)
The Merrion, a member of Leading Hotels of the World is Dublin's most luxurious 5-star hotel situated in the heart of Georgian Dublin. Facilities at The Merrion include 2 bars, 2 restaurants, gardens, pool & The Tethra Spa. The Merrion houses one of Ireland's most impressive collections of art and antiques which have inspired The Art Afternoon Tea and furthermore guests can avail of an audio art tour.
Neven's Recepies - Dressings
Dressings:
GINGER SESAME DRESSING
Makes about 100ml (3 1/2fl oz)
1 tsp finely grated root ginger
2 tbsp white wine vinegar
1 tbsp dark soy sauce
2 tbsp vegetable oil
2 tbsp toasted sesame oil
sea salt and freshly ground black pepper
Place the ginger in a small bowl with the white wine vinegar and soy sauce. Stir until well combined, then slowly whisk in the vegetable and sesame oils to emulsify and thicken. Season to taste and store covered with clingfilm in the fridge until needed. Use as required.
PREPARE AHEAD
This will keep happily for up to 1 week in the fridge.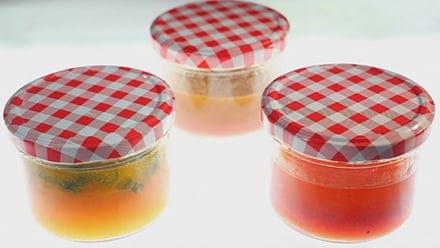 BASIL PESTO
Makes about 250ml (9fl oz)
1 large bunch of fresh basil leaves (at least 50g (2oz))
2 garlic cloves, peeled
25g (1oz) toasted pine nuts
175ml (6fl oz) olive or rapeseed oil
50g (2oz) freshly grated Parmesan
sea salt and freshly ground black pepper
Place the basil in a food processor with the garlic, pine nuts and a quarter of the oil. Blend to a paste, then slowly add the remaining oil through the feeder tube. Transfer to a bowl and fold in the Parmesan, then season to taste. Cover with clingfilm and chill until needed.
PREPARE AHEAD
This will keep happily in the fridge for up to 1 week – just top it up with a little extra olive oil to keep it tasting lovely and fresh. It can also be frozen.
Alternative potato accompaniments


SWEET POTATO FONDANTS
This has to be one of my favourite accompaniments at the restaurant, where I often serve it with duck or lamb. I normally use a 5cm (2in) straight-sided cooking ring as a cutter, which creates perfect little sweet potato towers every time!
Makes 4
2 sweet potatoes, each at least 8cm (3in) long and 4cm (1 1/2in) across
25g (1oz) butter
1 tsp sunflower oil
sea salt and freshly ground black pepper
300ml (1/2 pint) chicken stock
2 fresh thyme sprigs
Peel the sweet potatoes and trim down until they are 8cm (3in) long so you are left with cylindrical sections. Place these on your chopping board and cut each one into 2cm (3/4in) slices, then use a straight-sided cutter to stamp out 8 x 4cm (1 1/2in) rounds.
Heat a frying pan over a medium heat and add the butter and oil. Add the sweet potato discs and cook for 2–3 minutes on each side, until golden. Season to taste and pour in enough stock to come three-quarters of the way up the sweet potatoes.
Add the thyme sprigs to the fondants, then increase the heat and bring to the boil. Reduce the heat and simmer gently for 10–12 minutes without moving the potatoes, until all of the stock mixture has gone and the potatoes are tender when pierced with the tip of a sharp knife. Turn the discs over carefully with a spatula. You will notice that the bottoms have started to brown and caramelise. Cook for 3–4 minutes, until browned and completely tender.
COOK AHEAD
Make the sweet potato fondants up to 2 days in advance and keep covered in the fridge until needed. Reheat on a baking sheet at 180°C (350°F/gas mark 4) for 10 minutes. They also keep well in a cool oven.
Keywords
---
What our listeners think. 'You make us what we are',.. click here!



---

Food with Neven Maguire
You can find all of Neven's delicious recipes from the Marty in the Morning Friday programmes going back over the months, by clicking here.
---
"Marty Recommends…More" out now!. on Universal Music Ireland.





The wonderful one-disc collection will features 23 classic titles all carefully chosen by Marty Whelan.
Now in its third instalment of "Marty Recommends"…The album follows the hugely successful 2015 release "Marty Recommends" achieving Gold Status and most recently the festive "Marty Recommends…Christmas" edition. The catalyst of which was devised from this daily show with RTÉ Lyric FM "Marty in The Morning". Click here for details and full track listing.
---



An exclusive look behind the scenes with Marty in the Morning. Click here to watch now and stay tuned!
---