RTÉ NSO Weekly Competition
Every Monday we'll be giving away two tickets to the RTÉ National Symphony Orchestra's Friday night concerts and an overnight stayt with early bird meal for two in Buswell's Hotel.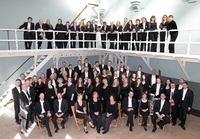 On Friday 2nd May, a selection of vivacious Hungarian Dances by Brahms ushers in an evening lit by the glow of gypsy campfires. Kodály's Dances of Galánta pays atmospheric homage to childhood folk songs, while Liszt's powerful concerto and Bartók's punchy Miraculous Mandarin surge with restless energy, high drama and the promise of sensual abandon.
Also, at 10pm join virtuoso Nikolai Demidenko for a late-night treat of four dreamy Russian nocturnes in a recital certain to cast off the woes of the day. Glinka's La séparation ripples with the moonlit beauty of crystal-clear waters, Blumenfeld's pretty Notturno-Fantasia pirouettes with balletic grace, Medtner's brace of Fairy Tales are delicately poised and Kalinnikov's Nocturne quietly revels in its own translucent beauty. In a word: bliss.