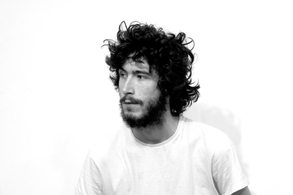 Sebastian Adams is announced as RTÉ lyric fm's Composer in Residence for 2016
Born in Amsterdam in 1991, Sebastian is a viola player, an organiser of concerts and new music groups, and utterly obsessed with music. The Head of RTÉ lyric fm, Aodán Ó Dubhghaill, welcomed his appointment: RTÉ lyric fm's Composer in Residence is a radio based initiative, founded in 2011, with the aim of helping to champion the future of new music in Ireland by connecting emerging composers with musicians and audience. We help composers form collaborative relationships, as well as creating events that support the connection to as broad an audience as possible through radio. Sebastian Adams is very much in the vanguard of young composers in Ireland. He wants to communicate to his audience, is enthralled equally by the possibilities offered by writing for an eighty piece orchestra as by the role of technology in music making today. We look forward to working with him in 2016 and using our technology to transmit Sebastian's music.
During his time as Composer in Residence, Sebastian will write several new works for broadcast on lyric including two new Christmas carols, an orchestral suite based on popular forms and a piece for use in school workshops by the RTÉ lyric fm quartet of musicians. He will also have the opportunity to create new works for the RTÉ Orchestras, Quartet and Choirs.
RTÉ lyric fm is looking forward to the contribution Sebastian will make to its coverage of new music in Ireland and Sebastian will be visiting selected schools around the country with the lyric outreach team. You will be able to keep up with all of Sebastian's activities through his broadcasts online and on lyric, and via his blog here on the lyric website.
Recent commissioners include RTÉ National Symphony Orchestra and New Ross Piano Festival. Performers include Crash Ensemble, Benyounes Quartet, Fidelio Trio, Sarah Watts, Beatrice Berrut, William Dowdall, Kate Ellis and Andrew Zolinsky, and he recently represented Ireland in Brussels at Festival L'Europe en Musique (and will do so again in 2016). His most recent composition is a seventy-minute chamber work responding to Messiaen's Quartet for the end of time and upcoming projects include a monumental sonata for US pianist Alexander Bernstein.

Sebastian is the founder of Kirkos, a committee member of Fishamble Sinfonia and directed the Irish Composers Collective for two years. He is in the process of developing a computer program that composes notated music in real-time, creating unpredictable scores - within chosen parameters - for sight-reading in concert.He studied in Vienna with Karlheinz Essl and with Kevin O'Connell and Jonathan Nangle in Dublin, graduating RIAM with the highest marks ever awarded in both composition and music technology.
Click here for information on RTÉ lyric fm's previous Composers in Residence