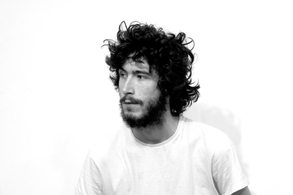 Sebastian Adams, Composer in Residence 2016: Blog 1
This is the first of a series of blogs about my time as RTÉ lyric fm's Composer in Residence. As most people reading this probably don't know who I am or what I do, I thought it would be good to include an explanatory infographic: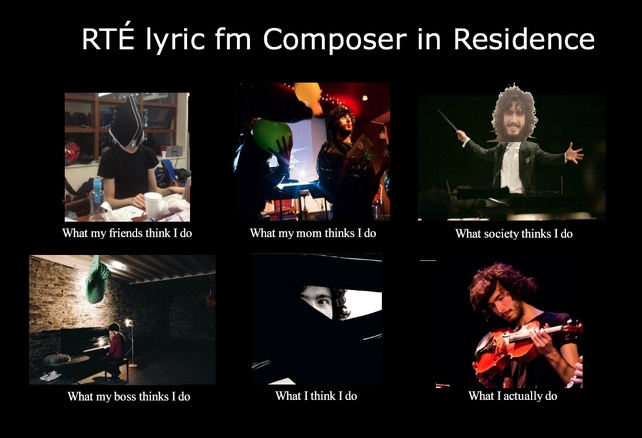 In all seriousness, the RTÉ lyric fm Composer in Residence means I will be spending the year writing a series of pieces for RTÉ (some orchestral pieces, a string quartet, a Christmas carol, a piece for school use, a radio theme tune) and doing blogs, radio and outreach work that offer a public window into the life of a young composer.
I am a composer, but composers have a great history of being multitaskers – most of the greats from the past were concert pianists, conductors, administrators and educators. For some, like Mahler (whose works are simply so brimming with notes it's hard to imagine ever getting time to write them all down, let alone the genius and energy to think of them), composing was a pursuit to while away the summer holidays.
Personally, I fit my composition around a litany of sins that mainly involve trying to make newly composed music happen in real life. I co-direct an ensemble Kirkos, dedicated to exploring new ways of presenting music (our next gigs are on Jan 29th and March 20th), I perform new music and improvise regularly as a viola player, and I was formerly chair of the Irish Composers Collective before throwing the reins at the unmatchable Sorcha Coller. I also work a lot with computers, programming in a music language called Max. Probably the feature of my career so far that gives me the most pride is that there are almost three hundred pieces by Irish composers that wouldn't have been performed for the first time without my efforts. You can keep track of me here.
As a composer, my harmonic and melodic language and way of thinking draws as much on late-Romantic German music as it does on more recent music, and where I tend to try to push against boundaries is by introducing moments of extreme stasis where they disrupt the grain of the music (for example, the painfully long periods of silence and repeated notes in this piece.
Every composer today has their own outlook on the 'right way to write', but my own view is that each extreme reached in the 20th century has the capacity to produce great music, but that none of them individually has a large enough expressive range to write ALL the great music that our century needs. The beauty of being a young composer now is that we can mix the palettes of all existing music in a way that has never been permissible before.
My current assignment for RTÉ lyric fm has me thinking deeply about the ideas mentioned in the previous paragraph. I've been tasked with writing a popular suite for orchestra, something that should appeal to a typical radio listener. This is quite a tricky thing for a composer, as it is very easy for us to lose sight of what the 'man on the street' (or even the hardcore classical music aficionado) wants to hear. After the most recent Kirkos concert, we received a lecture from an unsuspecting audience member on the fact that dissonance is only acceptable in very small doses. We were shocked, as we had thought that it was a very audience friendly event!! (If you're reading this, we're very sorry for ruining your Christmas)
I think that anecdote gives you an idea of why this is such a difficult commission – especially as I'm determined to produce something that is not an artistic compromise for me. When this aspect of the Residency was first mentioned to me, I was terrified, and not keen at all on the idea. But as time passed, it grew on me. Nothing like a good challenge! It's one that many of the greats have risen to in the past (the Shostakovich Jazz Suites being prime examples, this magical Waltz in particular. My first sketches for this suite began today, and hopefully they will progress enough in the next month that I can do a short recording walking through some of the sketches and explaining what I intend to do with them! If you're curious to see what my existing orchestral music sounds like, here is everything I've managed to get recorded:
As I sign off, I'd like to thank RTÉ for the great faith they've placed in me by offering me this residency. The Composer in Residence scheme offers something which extends way beyond a series of prominent commissions: thanks to RTÉ lyric fm, I am now in the first weeks of a full calendar year in which I can devote myself entirely to creative pursuits. That is definitively not what I had expected to be doing in 2016, and it will probably have decades-long repercussions for my development as an artist. RTÉ should be applauded for having the nerve and foresight to maintain such a position (whatever you may think of the current holder!!), and it will be for the great good of Irish cultural life if many other musicians over the years are given the same chance I have now.

Talk soon!! Sebastian.
Find out more about Sebastian Adams and previous Composers in Residence here