Looking ahead...
Sunday July 27th....
Tim Thurston guides you through a millennium of sacred music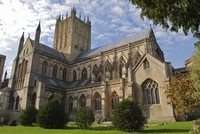 featuring Gregorian chant, pure solo voices and choral masterpieces, framed around the glorious music of J.S. Bach. Featuring Mendelssohn's 2nd Symphony - the "Hymn of Praise", two contrasting works by The Sixteen and another visit to wonderful Wells Cathedral for works by Stanford.