Classical Kids Sunday 16 March 2014
Classical Kids Christmas Eve Requests
Santa Claus is coming to town and so is Classical Kids for a very special live Christmas Eve Request Programme! Join us on December 24th for lots of jolly Christmas music and carols, including the story of The Snowman and The Night Before Christmas.
We would also love to hear from boys and girls around Ireland, especially anyone waiting on Santa! Just record or video your own special greeting or request, and email it to classicalkids@rte.ie. Then join Ian McGlynn live on Christmas Eve for the first ever Classical Kids Request Programme! Have a listen to Evie Jackson aged 5 from Limerick:
Tips for recording your greeting:
Before you record, decide what you're going to say! Are you going to wish someone special a 'Happy Christmas'? Maybe you could sing part of your favourite carol, or send a message to Santa reminding him where to leave your presents! Or maybe just let us know what you look forward to most at Christmas.

Make sure to start by saying your name, and where you're you calling from.

Don't worry if you make a small mistake, just keep recording and then send us your message. We'll listen to them and tidy them up a little, before we broadcast them.

Send your audio or video clips to classicalkids@rte.ie and feel free to email us some extra information not included in the message. If your file is too large, then use a filesharing website such as Wetransfer using the same email address.

We must receive your messages before Thursday December 22nd at 5pm.
And if you don't want to record a message, you can write to us via email at any time, or text on the day to 51554. And remember to join us live from 11.30 until 13.00 this Christmas Eve!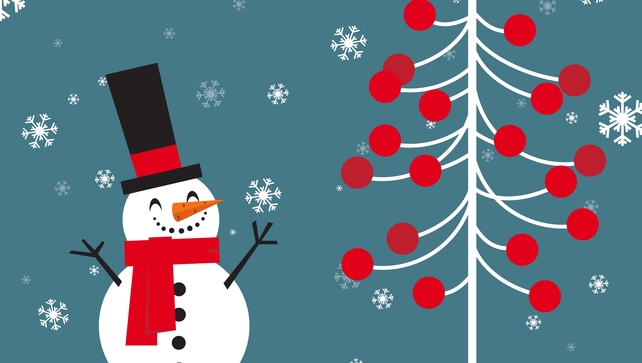 Sunday December 11th, 10am
If Beethoven had lived, he would be 246 this Friday! We'll wish him an early happy birthday today with some of his own wonderful music, We'll also go ice-skating with a beautiful waltz by Waldteufel, and we'll hear music written for dancing snowflakes by Tchaikovsky.
Sunday December 18th, 10am
We'll meet some people made of snow this morning - a very 'frosty' snowman and one who wants to live in the sun! Benjamin Britten used short piano tunes that he wrote when he was ten, to compose orchestral music for young music students could play. But his Simple Symphony became so popular; many professional orchestras still play it today. We'll hear it on Sunday morning, with movements including the Boisterous Bourrée and Frolicsome Finale.