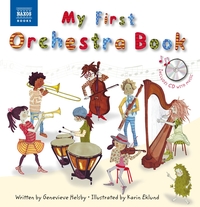 Win My First Orchestra Book and CD
This week, Classical Kids and www.classical.ie are giving you the chance to win a copy of 'My First Orchestra Book'. We meet Tormod the Troll who loves music and decides to leave his mountain-top cave, to travel the world and find different sounds. Along the way he meets lots of musicians who help him understand the instruments of the orchestra, and play lots of wonderful music for Tormod.
This is another beautiful book in the Naxos Books range, complete with a CD full of musical examples. We have five copies up for grabs and to win, just answer this question:

Which of these is NOT a section of the orchestra:
a) The Brass Section
b) The String Section
c) The Vegetable Section

Email the correct answer with your name and full postal address to classicalkids@rte.ie by Monday December 22nd at 5pm and we'll contact our winners directly. And for lots more great albums in the Naxos range for younger listeners, visit the children's section of their website.