WIN A FAMILY PASS TO THE BUALADH BOS CHILDREN'S FESTIVAL IN LIMERICK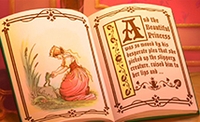 There's a really exciting festival happening in Limerick all next week, Limerick's first ever theatre festival for children. It's called Bualadh Bos and there's a wide variety of theatrical and literary events happening, including performances, interviews and workshops, between now and Friday October 31st - Hallowe'en!
The line-up includes talks with authors of some much-loved children's books including Judi Curtin (the Alice and Megan series and the Eva series) and Andy Stanton (author of the Mr Gum series). Let your imagination run wild with a performance of Homer's The Odyssey, where audiences not only interact with characters from Ancient Greece, but play some of roles themselves. For all the details you can visit the website for the Lime Tree Theatre www.limetreetheatre.ie/.
We've got two family passes to give away for an event of your choice, subject to availability. This lovely prize includes lunch, so all the makings of a great day out! To enter, simply email classicalkids@rte.ie with the answer to this question:
Name the series of children's book by Irish author Eoin Colfer - Artemis _______
Entries must be received by Friday October 24th and we'll announce the winner here next week. Good luck!