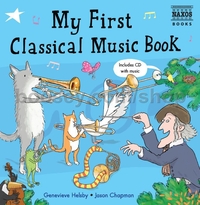 Win My First Classical Music Book and CD
This week, Classical Kids and www.classical.ie are giving you the chance to win a copy of 'My First Classical Music Book'. It's a super guide to classical music - the composers, the instruments and some of the places you might find music. It's beautifully illustrated with lots of fun facts and quizzes, and there's a gorgeous CD that accompanies it which contains the excerpts mentioned in the book, including music by Mozart, Saint-Saens, Beethoven, Brahms and many more. We have five copies up for grabs and to win, just answer this question:

Camille Saint-Saens wrote a suite of music that describes animals and their movements. Is it called:
a) The Carnival of the Animals
b) Romeo and Juliet
c) The Nutcracker
Email the correct answer with your name and full postal address to classicalkids@rte.ie by Friday December 19th and we'll announce the winners here. And for lots more great albums in the Naxos range for younger listeners, visit the children's section of their website.