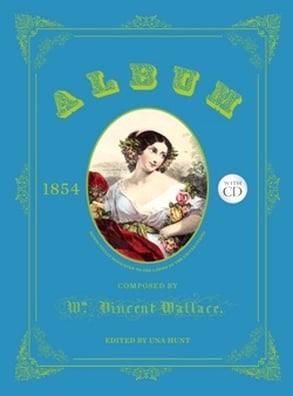 This magnificent high-quality reproduction album and CD is published as a limited edition to mark the bicentenary of the birth of William Vincent Wallace (1812-1865), Irish opera composer, double virtuoso and world traveler. Wallace's original album was published in 1854 by William Hall and Son, New York, a copy of this publication is now in the collection at the National Library of Ireland. The album includes several beautiful lithographs produced by Sarony & Major, and hand-coloured by Spearing and Stutzman in the United States. In years to come, this rare facsimile edition will surely become a collector's item.
Inside will be found a delightful collection of songs and piano music written for the drawing room, beginning with canzonets celebrating the four seasons to words by H.C. Watson; then follows a ballad: Say, my heart, can this be love; and a trio for female voices: Sisters of Mercy, to words by Edward Fitzball (Wallace's librettist). The following music for the piano includes a romance on the favourite melody from the opera Maritana: 'Tis the Harp in the Air, and a collection of dance-inspired pieces – valse gracieuse: La Pluie d'Or; Schottisch: The Village Festival; and the Invitation Polka.
At its first publication, The New York Times declared: 'this is unquestionably one of the handsomest gift books of the season … we cannot conceive of a more graceful and elegant offering to the ladies of the United States'. The album's popularity was assured when it was advertised as a 'must have' gift for Christmas 1853 in The Musical World and Times. Wallace's prowess as a composer is highly praised - 'the transcendent genius of Wallace has never before been so fully developed' and the book's illustrations are described as 'among the finest specimens of lithographic art ever done in America'.
The CD performances are given by Irish international pianist, Una Hunt, who has been particularly active over the years in bringing the music of Irish composers out of obscurity. Irish mezzo soprano, Máire Flavin, performs the solo songs on the album. Máire represented Ireland at Cardiff Singer of the World in 2011, and reached the Song Prize Final. The vocal trio, 'Sisters of Mercy', is performed by the dynamic young vocal trio from the Royal Irish Academy of Music.

The magnificent high-quality lithographs beautifully complement this unique example of a publication by one of Ireland's most celebrated composers, making it one of the most important modern publications of Wallace's music.
Visit rte.ie/shop to buy