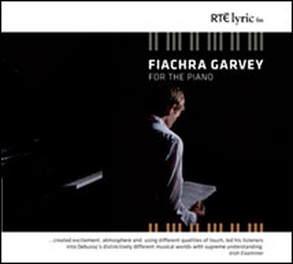 Fiachra Garvey is the top Irish prize winner at the AXA Dublin International Piano Competition receiving both the Brennan Prize and the McCullough bursary. Fiachra was the recipient of the "Rising Star" award from the National Concert Hall, Dublin where he gave his debut main auditorium recital in 2011. His approach to the music is focused, dynamic and informed, and Fiachra is rapidly growing audiences for his concert performances.
Fiachra Garvey: Music for Piano was recorded and mixed by Grammy and Gramophone award winning Abbey Road producer Jonathan Allen.
Fiachra Garvey: Music for Piano has been part-sponsored by Denis McCullough in memory of his grandfather Denis McCullough, founder of Mc Cullough's Music Shop.