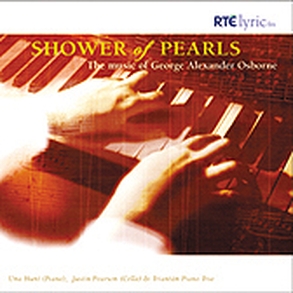 A fascinating array of unknown repertoire from the neglected Limerick-born composer, George Alexander Osborne. The result is a definitive collection of delightful piano works and chamber music, given superb renditions by Una Hunt piano, Justin Pearson cello, and Triantán Piano Trio.
1. La Pluie de Perles (The Shower of Pearls), Valse brillante, op. 61
2. Ireland (Fantasia on favorite Irish Airs)
Sonata for piano and 'cello in B flat major*
3. i. Allegro moderato
4. ii. Andante
5. iii. Allegro
6. Isabella Valse , op. 34
7. Evening Dew, Morceau de salon, op. 90
8. Fantasia on Balfe's Opera The Rose of Castille.
Trio no. 3 in G, op. 52, in G**
9. i. Allegro moderato
10. ii. Scherzo
11. iii. Adagio: cantabile
12. iv. Finale: allegro

Una Hunt, piano.
* Una Hunt, piano and Justin Pearson, cello
** Triantán